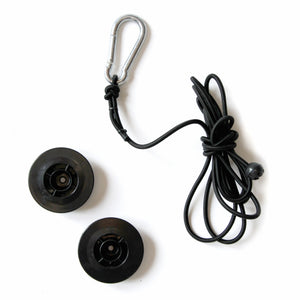 Float-Eh Water Mat Tether Kit
Pool Float Accessories - Float-Eh
Regular price $29.99 CAD $29.99 CAD Sale
Adding an additional tether location to your floating water mat will prevent it from flying away during heavy winds. Our tether kit comes with a grommet, tether, and clip so your mat will be sure not to float away. For installation instructions please refer to our FAQ page.
12 ft. bungee tether with clip.
Grommet (1 7/8" hole).
Comes with screws.
Precautions should be taken to eliminate activities that could cause entanglement in the rope and/or anchoring device.